Demystifying Grammar 
Hello! I'm so glad you're here. It's time for you to learn how to enjoy grammar and sentence diagramming. 
If you find the idea of teaching or learning grammar intimidating, make watching this video a priority. 
This lesson is about one hour long. After watching it, you'll have a framework of the structure of English, you'll understand the eight parts of speech, and you'll see why diagramming sentences is so great.
Be sure to watch this lesson this weekend because it will only be available until this Sunday evening. Enjoy!
---
If you want to teach or learn grammar the easy way, then follow a step-by-step program that clearly lays everything out for you and allows you to move at your own pace. The Get Smart program is presented in a logical sequence, so it's not an overwhelming mishmash of information. Before you know it, you'll be a grammar and sentence diagramming pro!
The whole program is online, so you have instant access to these lessons and videos. It's easy and fun. You can get it at
www.English-Grammar-Revolution.com/daily-diagrams.html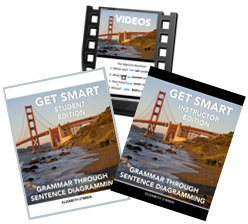 Keep learning and have fun!
---
| | |
| --- | --- |
| Elizabeth O'Brien is the creator of the Grammar Revolution step-by-step grammar and sentence diagramming programs. Her programs are guaranteed not only to teach you grammar, but also to give you more confidence in your communication skills. | To get your free Parts of Speech guide and receive Elizabeth's bi-weekly articles on improving your grammar and having fun with sentence diagramming, enter your email address and name below right now. |