July 18, 2017

Dear,



Here we are picking raspberries from our neighbor's garden. I love that this photo is an explosion of green!

In this newsletter, rather than teach you a grammar lesson, I'm sharing a few grammar resources that I find valuable.

Happy Learning,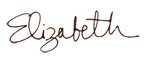 Elizabeth O'Brien


I want to let you know how grateful we are for your grammar course. It saves us a huge amount of class time and, having looked around for some time, we think it's the best grammar course on the web.
- Simon
A List of Resources For You
Here are a few resources that I've benefited from over the years. I thought that they might be able to help you as well.
---