August 29, 2017
Dear,

We went to the Minnesota State Fair yesterday and enjoyed the rides and the food. In this photo, Alice is happily holding a bag of mini donuts, her favorite treat.

In today's lesson, you'll get to take a grammar test that was given to 8th graders in 1912. I hope you enjoy it!

Happy Learning,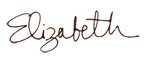 Elizabeth O'Brien


Order All Courses & Books Together & Save
"Your approach to teaching grammar is awesome! I got an A+! YES! Thank you!" - Danny, Student
"Thank you for the Get Smart course! The benefits spilled seamlessly into my students' writing. I noticed fragments and run on sentences decline over the course of the year." - Stephanie, 8th-Grade Teacher
Learn more here.
1912 Grammar Test for 8th Graders
Would you pass this grammar test that 8th graders were given in 1912? Take the test and check your answers here!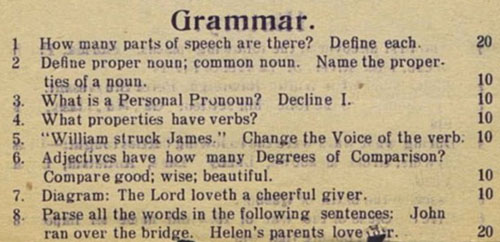 1. How many parts of speech are there? Define each.

2. Define proper noun; common noun. Name the properties of a noun.

3. What is a personal pronoun? Decline I.

4. What properties have verbs?

5. "William struck James." Change the voice of the verb.

6. Adjectives have how many degrees of comparison? Compare good; wise; beautiful.

7. Diagram: The Lord loveth a cheerful giver.

8. Parse all the words in the following sentences: John ran over the bridge. Helen's parents love her.
---
Check Your Answers
I don't have an official copy of the answers for this test, but...
Continue the article here:

www.GrammarRevolution.com/1912-grammar-test-answers.html
---
Have a wonderful week!
About Elizabeth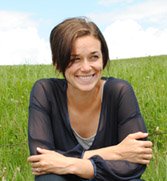 Elizabeth O'Brien is founder of www.GrammarRevolution.com, a company devoted to helping people learn and love grammar.
Through her website, books, and programs, Elizabeth shows people how to teach and learn grammar the easy way. She's on a mission to inspire and motivate people by making grammar fun and friendly.
If you liked today's issue, you'll love Elizabeth's grammar and sentence diagramming programs, which will help you learn or teach grammar through simple, step-by-step instructions and sentence diagrams.
Manage Your Subscription