November 21, 2017

Dear,

We were lucky enough to spend a few days in Florida last week. Here we are enjoying the warmth while waiting in line for a safari ride at Disney's Animal Kingdom. As you can see, both Alice and I were pretty excited to see the animals.

Happy Thanksgiving! Thank you for being a part of the Grammar Revolution. I feel so fortunate that I'm able to do this work, and I'm forever grateful to be a part of this supportive community.

I'm happy to announce that we're running a Thanksgiving sale again this year. (It's the only sale we run during the year.) Be sure to read below for details.

In today's video lesson, we'll do some sentence diagramming together. Here we go!

Happy Learning,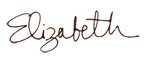 Elizabeth O'Brien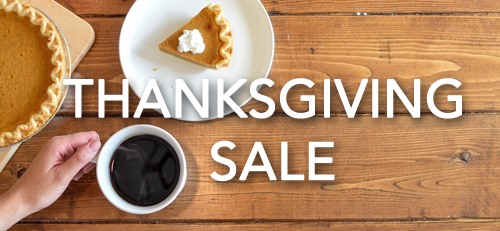 We're offering 30% off all of our digital books and programs and 20% off all of our softcover books! Click here to see all of our books and courses.

Just enter the following discount codes into the promo code box during the checkout process. These codes will expire at 11:59 pm on Monday night.

Digital Discount Code: digital30

Softcover Discount Code: softcover20
Sentence Diagrams for Thanksgiving
Here in the United States, we're gearing up for Thanksgiving. But before we stuff ourselves with turkey, mashed potatoes, and pie, let's do a little mental workout and diagram some sentences!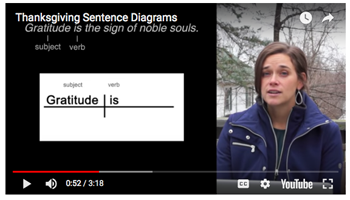 Click here to watch the video and continue reading this article.
Directions
Diagram the following three sentences. After you've diagrammed them, identify the function of each word, phrase, and clause. You'll find the answers here.
1. Macy's Thanksgiving Day Parade began in the 1920s.

2. Male turkeys gobble, but female turkeys do not.

3. The American colonists used pumpkin in pie crusts, but they did not use it in the filling.
A Note to Beginners
If you're just beginning to… Click here to read the lesson.
www.GrammarRevolution.com/thanksgiving-sentence-diagrams.html
---
Have a wonderful week!
About Elizabeth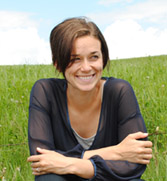 Elizabeth O'Brien is founder of www.GrammarRevolution.com, a company devoted to helping people learn and love grammar.
Through her website, books, and programs, Elizabeth shows people how to teach and learn grammar the easy way. She's on a mission to inspire and motivate people by making grammar fun and friendly.
If you liked today's issue, you'll love Elizabeth's grammar and sentence diagramming programs, which will help you learn or teach grammar through simple, step-by-step instructions and sentence diagrams.
Manage Your Subscription