There are many places to find celebrity quotes, but where else can you see them diagrammed?
I started this page thinking that I would diagram quotes from celebrities in our current culture. That turned out to be quite difficult. I like to diagram inspiring, well-crafted sentences, and hunting those down in today's media jungle was not a fruitful use of my time and energy.
So, this page has turned more into a collection of inspiring quotations from past "celebrities." I hope you enjoy it! All of the quotations will be in sentence diagrams. Cool, huh?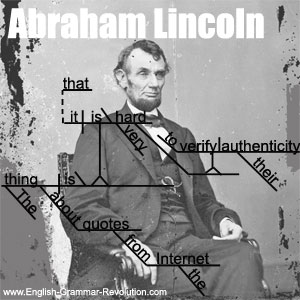 Warning

I found these celebrity quotes on the Internet, so keep the following Abraham Lincoln quote in mind as you enjoy these quotes and sentence diagrams.
The thing about quotes from the Internet 
is that it is hard to verify their authenticity. 

- Abraham Lincoln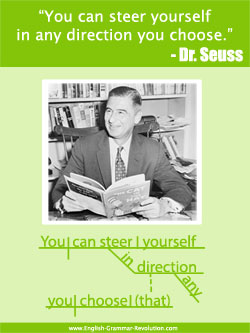 You can steer yourself in any direction you choose.

- Dr. Seuss
In the end, we will not remember the words of our enemies, but the silence of our friends.
- Dr. Martin Luther King, Jr.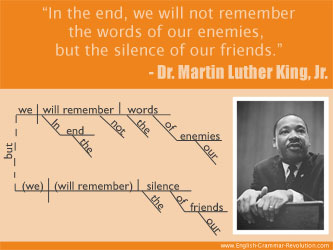 My students love diagramming and are learning so much. Thank you for your inspiration and instruction. 
- Destiny, Teacher
Learn to Diagram Sentences
Sentence diagramming is an amazing tool for learning and teaching grammar.
I don't know about you, but I went through my whole K-12 schooling being very confused about grammar. I just couldn't "get it," and I started to think that there was something wrong with me.
Finally, in college, one of my professors taught me grammar from the very beginning, and she used sentence diagrams to do it.
It was like one of those miracle moments in life because I finally "got" grammar, and I finally felt good about myself again. I had developed quite a complex about my "inability" to learn grammar, and I realized that it was not my fault. I had just never been properly taught.
Anyway, ever since that college class, I had wondered why in the world sentence diagramming is not typically taught in classrooms anymore.
After being out in the field teaching for a few years, I discovered that my students also responded well to sentence diagramming.
That was enough inspiration for me. I started this website to spread the word, and I'm pleased to say that grammar and sentence diagramming are not dead!
Since starting this website, I have heard from hundreds of teachers and students using sentence diagramming and singing its praises.
If you want to teach or learn grammar the easy way, follow our step-by-step program that clearly lays everything out and allows you to move at your own pace. The Get Smart Grammar Program is presented in a logical sequence, so it's not an overwhelming mishmash of information. Just watch the videos and complete your assignments. Before you know it, you'll be a grammar and sentence diagramming pro!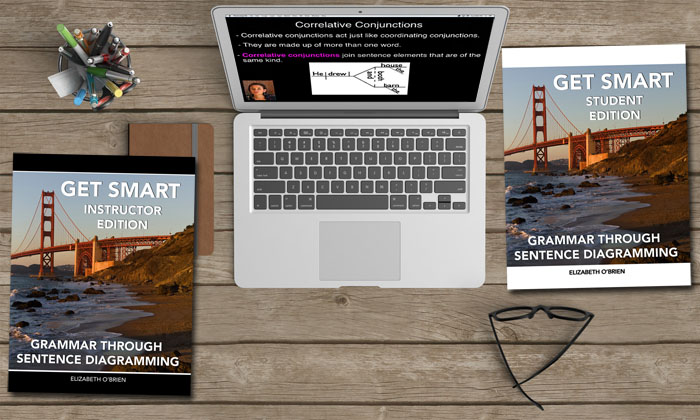 Done with these Celebrity Quotes?
Back to English Grammar Home Page