English Grammar the Easy Way:
Diagramming Sentences
Learning Grammar Can Be Fun
Grammar—it's a subject that fills many of us with frustration, but it doesn't have to. Sentence diagramming is an effective way to
learn grammar
, and it's like a word game.
Here, you'll find exercises, lessons, and oodles of sentence diagrams, which, combined with that powerful brain of yours, will turn you into a grammar pro.
Teaching English Grammar Doesn't Have to Be Dull
Are you a teacher? If so, you're probably looking for easy ways to make
teaching grammar
fun.
Well, I've taught
sentence diagramming
to many students, and they LOVED it. They were learning grammar and begging me for more. Sentence diagramming might just be the key to fun and learning in your classroom.
Together, We'll Revolutionize Your Grammar Knowledge
We'll use sentence diagrams to help you SEE how words are related, and I'll use my natural charm to keep you interested (he he he).
Our goals here are to have fun and learn grammar. So, set aside your frustration, pick up your pencil, and join the English Grammar Revolution!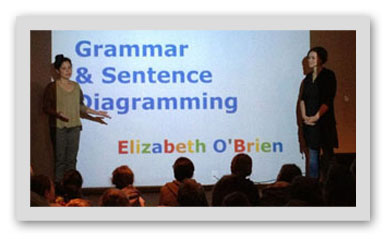 Get Inspired! Learn or Teach Grammar the Easy Way
If you're looking for goodies to use in your classroom or for your own personal use, you'll find our easy-to-use books and programs at www.English-Grammar-Revolution.com/products.html

---
Search This Site
Are you looking for something special? Use the site map or the search box below.
Custom Search
| | |
| --- | --- |
| To get your free Parts of Speech guide and receive her bi-weekly articles on improving your grammar and having fun with sentence diagramming, enter your email address and name right now. | Elizabeth O'Brien is the creator of the Grammar Revolution step-by-step grammar and sentence diagramming programs. Her programs are guaranteed not only to teach you grammar, but also to give you more confidence in your communication skills. |
---