Elizabeth O'Brien
Grammar & Sentence
Diagramming Instructor
Elizabeth O'Brien teaches people to be confident users of English grammar!
Her step-by-step approach uses sentence diagrams to teach grammar systematically.
---
How did you become a grammar teacher?

Today I enjoy helping people understand and teach grammar, but I used to feel confused and overwhelmed by it.

While in college earning my degree in Elementary Education and TESOL (Teaching English to Speakers of Other Languages), I was teaching grade school and junior high students, and I was tutoring English grammar to ESL college students.

But, I had a problem... I had no idea what I was doing! I had negative grammar experiences in my schooling that led me to think I would never be able to understand grammar. I was self-conscious.
During my teaching and tutoring sessions, students would ask me questions that I had no idea how to answer. I would grope for answers in the books we were using and babble some kind of unintelligible answer that didn't help my students at all. I felt nervous, guilty, and confused. I would keep my voice low because I didn't want other tutors or teachers to overhear me. I felt terrible about myself.
One day, I decided to make a change. I was tired of feeling self-conscious about my grammar and my teaching. I made the decision to learn this material no matter what!
I took a grammar class the next semester, and I made a commitment to study everything until I understood it. Luckily for me, I had an excellent professor. She taught us grammar in a logical order, and she used sentence diagrams.
For the first time in my life, I was understanding grammar. I earned an A in my class, but the best thing was that my grade reflected the confidence I felt inside.
Since then, I've taught grammar in a graspable, fun way to my own students, and I've made a commitment to help other educators who struggle with grammar. I teach with sentence diagrams and a logical progression of material.
I've worked with hundreds of learners, created the Grammar Revolution website, and created several courses and books to help people learn grammar in an approachable, interesting, fun, visual way.
---
Whom are your materials for?
I work with people just like you who want to understand grammar but have never been taught properly.
My customers are typically ...
Homeschool Teachers
Classroom Teachers
ESL Teachers
College Professors
Students
Editors
Copywriters
People use my information to teach themselves or their students.
---
How are your materials different from other grammar programs?
I really enjoy helping people learn grammar, and I tend to be pretty peppy, which is something you won't find in many other grammar instructors!
I use a step-by-step approach that includes lessons and the visuals of sentence diagramming to teach grammar in a systematic way.
Sentence diagramming is becoming a lost art, and I'm bringing it and all of its benefits back in style!
---
What is expected of me?
When you commit to learning and teaching grammar with my grammar programs, I'll do everything I can to teach you with enthusiasm, but you have to do some work as well.
You must devote some of your time and brain power to completing the course work and soaking up all of the yummy information!
If you work with me and take the time to think through each lesson, you're going to feel more confident as a teacher and person, and you're going to enjoy a more peaceful classroom filled with engaged and curious students.
---
Whom are your programs NOT for?
My programs are not for people who already have a strong grasp of grammar and are satisfied with their current grammar instruction program.
If you and your students can already diagram sentences and you feel confident and comfortable teaching your students, then my programs are not for you.
If you're this kind of person, you probably shouldn't invest in any of my programs. I wouldn't want you to waste your time or money.
---
What are your grammar instruction programs and what do they include?
All of my programs are for fifth graders through adults.
Get Smart: The Complete Grammar & Sentence Diagramming Solution: If you don't know any grammar, and you'd like to become a grammar and sentence diagramming pro, this is the place to start. This program starts from the very beginning and includes lessons with sentence diagramming exercises, periodic quizzes, and video lessons. This program has 37 lessons, and each lesson includes thorough instructions and five sentence diagramming exercises that connect to the lesson. You can use this to teach or learn grammar in ten minutes each day throughout a school year, or you can spend more time on the material and move at a faster pace.
Sentence Diagramming Exercises Ebook: An Introduction To Sentence Diagramming: If you already have some background in grammar, but you'd like a refresher and you'd like to learn how to diagram sentences, the Sentence Diagramming Exercises book is the place to start. This book gives short lessons and sentence diagramming exercises starting with subjects and verbs and ending with verbals (gerunds, participles, and infinitives). Although it covers similar material as the Get Smart package, it's significantly shorter. You could go through the whole thing in one to three weeks depending on how quickly you proceed.
Sentence Diagramming Reference Manual: How To Diagram Anything: This reference tool will make sure that you always know how to structure your sentence diagrams. It gives you short, simple explanations and easy-to-use diagrams of everything you could want to diagram.
Stay Smart: 188 Advanced Sentence Diagramming Exercises: Do you and your students already understand grammar and sentence diagramming? If you're looking for a fun, easy way to maintain everything that you and your students have learned, this is for you! Your students can diagram one sentence per day in their workbooks, and you can quickly grade their answers with the answer key. You'll find 188 interesting sentences to diagram, answer keys for each sentence, tips, and extensive review material. This program is for anyone who understands grammar and sentence diagramming.
---
Do your programs really work?
Yes! When grammar is taught in a certain order, people are able to understand and retain the information.
When this proper sequencing of material is paired with sentence diagramming, it boosts people's understanding and enjoyment.
Sentence diagrams make the connection between words, phrases, and clauses visual. They show us the structure within sentences, and they are fun to create.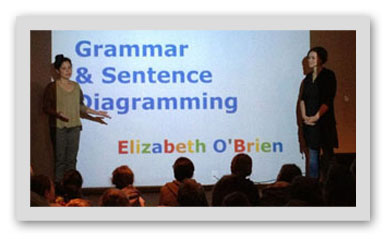 ---
What results can I expect?
You can expect to:
Be more confident in your speaking and writing
Teach with confidence
See your students soar
Have your students ASKING you for more sentences to diagram
Understand sentence structure
Understand how words function in sentences
Diagram troubling sentences and figure out what is wrong with them
Save time (You don't have to write lesson plans!)
Feel great knowing that you're giving your students the knowledge they need
---
Elizabeth, I know that you're the one I want to learn from. How can I get started?
Congratulations! You're going to learn grammar, teach your students, and have a great time!
You'll probably want to check out the products page to see which program will be right for you.
---
I'm not quite sure I'm ready to get started. How can I sample your work at a low cost so I can decide if this is right for me?
A way to sample my approach is by subscribing to Diagram It, my bi-weekly email newsletter.
It provides you with lessons, tips, and sentence diagrams to get you started. It's a must for anyone who wants to start feeling confident about grammar. Subscribe here.
---
OK, I'm ready to do this for myself, but I have a couple of questions. May I contact you?
Great. It sounds like you're ready to make a change! If you have a couple of questions, just use the contact form, and I'd be happy to walk you through the different options to see which one will be the best for you.
I look forward to hearing from you!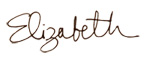 | | |
| --- | --- |
| Elizabeth & David O'Brien | |