Grammar the Easy Way:
Diagramming Sentences
Learning Grammar Can Be Fun
Grammar—it's a subject that fills many of us with frustration and fear, but it doesn't have to. I'll help you actually learn grammar (not just a bunch of random rules that you'll forget in a week), and we'll use sentence diagrams to make it easy and fun. Sentence diagramming is an effective way to
learn grammar
, and it's like a word game.
Here, you'll find exercises, lessons, and oodles of sentence diagrams, which, combined with that powerful brain of yours, will turn you into a grammar pro.
Teaching English Grammar Doesn't Have to Be Dull
Are you a teacher? If so, you're probably looking for easy ways to make
teaching grammar
fun. I've taught
sentence diagramming
to many students, and they LOVED it. They were learning grammar and begging me for more. Sentence diagramming might just be the key to fun and learning in your classroom.
My students are fighting over who gets to diagram the sentence on the board when they walk into the classroom. It is a joy to see. 
- Tracy, Classroom Teacher
Together, We'll Revolutionize Your Grammar Knowledge
We'll use sentence diagrams to help you SEE how words are related, and I'll use my natural charm to keep you interested (he he he).

I have struggled with understanding grammar my whole life, and I felt like I was stupid because I could not memorize the rules. 
I was seriously leaning towards walking away from my dream job as a college professor because of my embarrassment and fear of getting caught as being a fraud! Thank God for you! I have confidence, and I actually love grammar now. Thank you for everything!
- C., College Professor
Our goals here are to have fun and learn grammar. So, set aside your frustration, pick up your pencil, and join the English Grammar Revolution!

Get Inspired! Learn or Teach Grammar the Easy Way
If you're looking for goodies to use in your classroom or for your own personal use, you'll find our easy-to-use books and programs at www.GrammarRevolution.com/products.html
I am proud to say that last academic year, my grades in English improved drastically as a result of your lessons. 
- Martin, University Student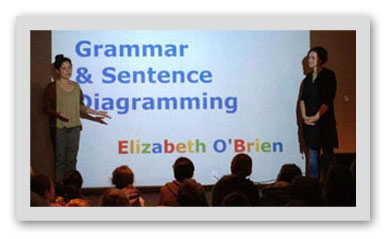 ---
Search This Site
Are you looking for something special? Use the site map or the search box below.
Custom Search
| | |
| --- | --- |
| To get your free Parts of Speech guide and receive her bi-weekly articles on improving your grammar and having fun with sentence diagramming, enter your email address and name right now. | Elizabeth O'Brien is the creator of the Grammar Revolution step-by-step grammar and sentence diagramming programs. Her programs are guaranteed not only to teach you grammar, but also to give you more confidence in your communication skills. |
"Grammar often seems to be a low priority in education. Are schools undervaluing grammar, given that employers may rule out applications with sloppy writing?"  - The New York Times
"Students and teachers need the terminology of grammar so they can discuss sentences easily […]." - Brock Haussamen
"[W]hen young people are taught to undervalue literacy as a life skill, they are being cruelly misled." - Lynne Truss