Give your students a grammar quiz or quiz yourself!
Do you know what makes a complete sentence? Can you identify a sentence fragment? How about a run-on?  (Can you find the fragment in this paragraph?) Answers are at the bottom of the page.

These English Grammar Quizzes Cover...
1. Identifying Sentence Fragments
Directions: If a group of words is a sentence, write sentence. If it is a fragment, write fragment. Remember that sentences express a complete thought. If a group of words is missing a subject, predicate, or both, it is a sentence fragment.

Example: My sister's cat.
Answer: fragment
1. The cow in the field.

2. The sweet little bird in the tree.

3. This food tastes delicious.

4. Everyday after school.

5. People talked.
6. This is a wonderful movie.

7. The character with the blonde hair.

8. My very energetic mother.

9. I asked my mother to bake chocolate chip cookies.

10. Whenever my sister sings.
Directions: Correct these sentence fragments by adding the missing parts. Answers will vary. Use your creativity to make fun sentences!

Example: my sister's cat
Possible Answer: My sister's cat is adorable.
1. ran all over town

2. the red and blue chair

3. the famous chef from your favorite television show

4. the rain

5. swam two miles
6. that little boy

7. read twenty books this summer

8. calculator

9. May I use

10. My math teacher
3. Identifying & Fixing Run-on Sentences
Directions: If a group of words is a sentence, write sentence. If it is a run-on sentence, write run-on, and correct the sentence so that it is no longer a run-on. Remember that a run-on sentence is two or more sentences written incorrectly as one. For more information on fixing run-on sentences, see this page.

Example: My dog is cute, his name is George.
Answer: Run-on. Correction: My dog is cute. His name is George.
1. My grammar teacher is incredibly nice she works hard to teach me.

2. I'm so glad that I am learning proper grammar!

3. Do you like football my dad loves it.

4. I always watch my sister's soccer games.

5. It's really hot today, we're going to the ocean.
6. Lea, Natalie, and April walked around town and ate ice cream.

7. We're eating pizza for dinner tonight.

8. I saw a deer in the woods it had a white tail.

9. The gardener trims the plants on Tuesdays he does a great job.

10. I love that blue dress, the color looks great on you.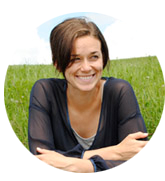 Hello! I'm Elizabeth O'Brien, and my goal is to get you jazzed about grammar.

I am loving the Get Smart program! My eighth graders are grasping grammar better than I've ever seen. I intend to continue using this every year!
- Ann, Classroom Teacher
Thank you for the work that you do. Listening to how you explain things makes a lot of sense to me. I can really comprehend it.

- Harriett