Chapter 8: Diagramming Subordinating Conjunctions (Adverb Clauses)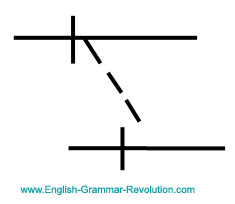 Subordinating conjunctions
are words that introduce adverb clauses.
although, because, before, if, since, while
Adverb clauses
are dependent clauses that act as adverbs. That means the whole clause modifies a verb, adjective, or an adverb.
He whistled while he walked.
While he walked
is a dependent adverb clause. It is modifying the verb
whistled
, and it is being introduced by the subordinating conjunction
while
.
If you'd like to learn more about these topics before you start diagramming them, check out these pages for more help:
---
8.0 Diagramming Adverb Clauses
Directions:
All of the following sentences contain dependent adverb clauses and subordinating conjunctions.
To diagram each sentence, start by diagramming the independent clause. Then, diagram the dependent adverb clause below it.
Connect the two clauses with a slanted, dotted line.
Put the subordinating conjunction on the dotted line.
All of the adverb clauses in these exercises modify the verbs in the independent clauses. Because of this, the slanted, dotted line should come off of the verb in the independent clause.
Here is an example to get you started.
My mom smiled when I made dinner.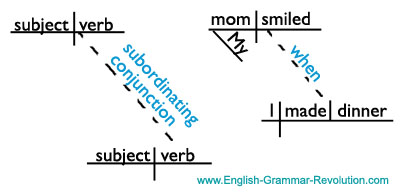 1. If the weather is nice, I will be happy.
2. Whenever my dog barks, my cat meows.
3. I ran until my legs hurt.
4. I won the race because I practiced.
5. As I walked, the sky became dark.
---
Check Your Answers
8.0 Diagramming Adverb Clauses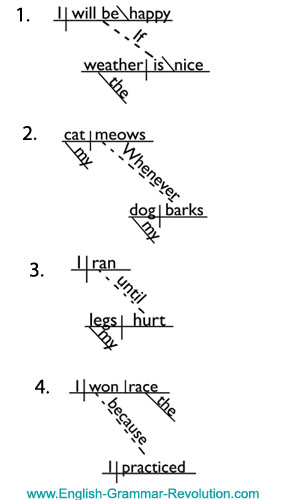 5. This answer is only available in the
book
.
---
Get These Exercises &
Love Grammar
Click Here for the Exercises Ebook
Click Here for the Paperback Exercises
---
| | |
| --- | --- |
| Elizabeth O'Brien is the creator of the Grammar Revolution step-by-step grammar and sentence diagramming programs. Her programs are guaranteed not only to teach you grammar, but also to give you more confidence in your communication skills. | To get your free Parts of Speech guide and receive Elizabeth's bi-weekly articles on improving your grammar and having fun with sentence diagramming, enter your email address and name below right now. |
---
Finished Chapter 8?
Move on to Chapter 9.