Oh, goody! It's time to learn about proper nouns and common nouns.
You probably already know what a noun is, but I'm still going to give you a little refresher! Nouns are words that name people, places, things, or ideas, and there are many different types of nouns. In this lesson, we'll go over two types.
---
Proper Nouns
These name specific people, places, things, or ideas.
Britney, Paris, Rover, Nike
Since these nouns are naming specific things, they always begin with a capital letter.
Sometimes, they contain two or more important words.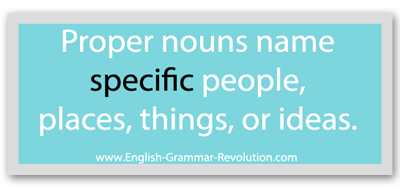 Britney Spears, Central Park Zoo, Pacific Ocean
If this is the case, both important words are capitalized, and the whole thing is still considered to be one noun even though it's made up of more than one word. How about that?