My goal is to give you engaging lessons about language and grammar in order to help you communicate more confidently. I want to help you understand and love language!
Alice, David, Lenora, and Elizabeth O'Brien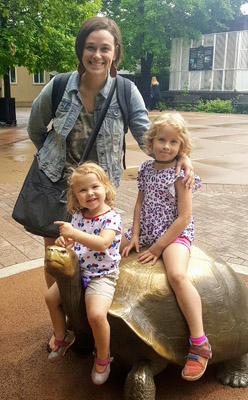 My husband and I have two children, but I also think of Grammar Revolution as "my baby." :) 

Why are you so passionate about grammar instruction?
The short answer is that I love grammar because I used to hate grammar.
Here's the long answer. I used to feel confused and overwhelmed by grammar. I thought that I wasn't smart enough to "get" it.
While in college studying Elementary Education and TESOL, I was teaching grade school and junior high students, and I was tutoring ESL college students.
But I had a problem ...

I had no idea what I was doing! I had negative grammar experiences in my schooling that led me to think I would never be able to understand grammar. I was self-conscious.
During my teaching and tutoring sessions, students would ask me questions that I had no idea how to answer. I would grope for answers in the books we were using and babble some kind of unintelligible response that didn't help my students at all.
I felt nervous, guilty, and confused. I would keep my voice low because I didn't want other tutors or teachers to overhear me.

One day, I decided to make a change. I was tired of feeling self-conscious about my grammar and my teaching. I made the decision to learn this material no matter what!
I took a grammar class the next semester, and I made a commitment to study everything until I understood it. Luckily for me, I had an excellent professor. She taught us grammar in a logical order, and she used sentence diagrams.

For the first time in my life, I was understanding grammar. I earned an A in my class, but the best thing was that my grade reflected the confidence I felt inside.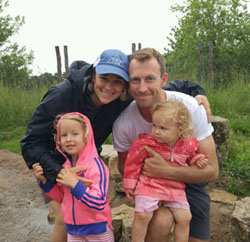 Since then, I've taught grammar in a graspable, fun way to my own students, and I've made a commitment to help other teachers and students who struggle with grammar. I've worked with hundreds of people, created the Grammar Revolution website, and created several courses and books to help people teach and learn grammar in an approachable, interesting, fun, visual way.

Why do you love sentence diagramming so much?
When grammar concepts are taught in a certain order, people are able to understand and retain the information. When this proper sequencing of material is paired with sentence diagramming, it boosts people's understanding and enjoyment.
Sentence diagrams make the connection between words, phrases, and clauses visual. They show us the structure within sentences, and they are fun to create. They are like little puzzles.
If you don't know how to diagram, I'll help you learn! You can learn using our books and courses, and you can learn little bits at a time by subscribing to our free email lessons.
Are your materials right for me?
We have a wide range of wonderful folks using our books and programs. 

Classroom Teachers
Homeschoolers
ESL Teachers
College Professors 
Students
Writers
Adults Who Never Learned Grammar
Parents

We recommend our materials for fourth graders through adults. You can use our lessons to teach yourself or others. They're very flexible.
How else do you spend your time?

When I'm not working on Grammar Revolution, I love hanging out with my daughters, husband, extended family, and friends. Here are some more things I enjoy:
Learning to draw

Being outside

Reading personal development books 

Reading fiction 

Baking and cooking

Playing the piano 

Going on road trips and other fun adventures

Doing anything with my family
I'm happy that you're here on this grammar adventure with me. I know your life is busy, and I'm honored that you're spending time here with me.
If you enjoy my lessons, please share this website with your friends, family, neighbors, and grocery store clerks. Your support and word-of-mouth recommendations are what keep this thing going. 

I look forward to helping you become a confident grammar lover! 
Elizabeth