Hello there! Do you already know about diagramming sentences? Here's the scoop: Diagramming sentences makes it easy to see how the parts of a sentence are related, and creating each diagram is like solving a little puzzle.
When you understand sentence diagramming, you feel more confident about your grammar, and it will positively affect your speaking, writing, and teaching. 
On this page, you'll discover easy-to-find links that show you how to diagram anything. (Psst! You can get all of this information and more in the Sentence Diagramming Reference Manual if you'd like.)

Click on the Topic You'd Like to See Diagrammed
A
action verbs
,
adjectives
,
adjective clauses
,
adverbs
,
adverb clauses
, adverbial nouns,
appositive phrases
,
appositives
, articles
B
bare infinitives
C
clauses
,
commands
, complements,
complex sentences
,
compound sentences
,
compound-complex sentences
,
conjunctions
,
coordinating conjunctions
, correlative conjunctions
D
declarative sentences
,
dependent clauses
,
determiners
,
direct address
,
direct objects
,
direct quotations
E
elliptical clauses
,
exclamatory sentences
, expletives
G
gerund complement
,
gerunds
,
gerund phrases
H
helping verbs
I
imperative sentences
,
independent clauses
,
indirect objects
,
infinitive complement
,
infinitive phrases
,
infinitives
,
interjections
,
interrogative sentences
,
intransitive verbs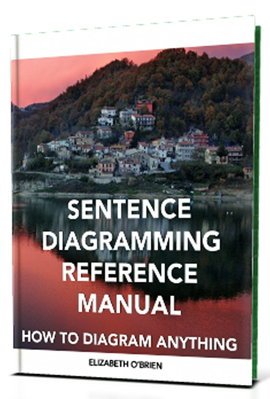 L
linking verbs
M
main clauses
, modifiers (see
adjective
and
adverb
)
N
negatives
, nominative absolute,
noun clauses
,
nouns
,
nouns of direct address
O
object of the preposition
,
objective complements
P
participial phrases
,
participles
,
participle complements
,
parts of speech
,
passive verbs/passive voice
, phrasal verbs,
phrases
, "please," possessive nouns, possessive pronouns,
predicate adjectives
,
predicate nouns
,
prepositions
,
prepositional phrases
,
pronouns
Q
quotations
,
questions
R
relative adverb, relative pronoun
S
simple sentence
, skyhooks,
statements
,
subjects
, subject complement,
subject of infinitives
,
subordinate clauses
,
subordinating conjunctions
T
transitive verbs
U
understood "you"
V
verbs
, verb complement,
verb phrases
,
verbals
You'll love diagramming sentences. I promise.
I often hear from people who have discovered the joys of diagramming sentences. Here are just a few of the notes that I've received through this website. We'd love to have you join the grammar revolution.
I have all your materials, and I think it's all superb. It is a great way to make grammar tuition more dynamic/interactive and less didactic. It also appeals to visual learners.
- Terry, Literacy Program Coordinator
Many thanks for your extraordinary work. I am new to teaching, but I think your approach is just splendid.
- Petra, Teacher
I am so glad I joined the Grammar Revolution. You bring spice to our English department!
- Eileen, Teacher
I live in England and teach my fourteen-year-old daughter at home. Your website is wonderful, and we are so grateful you have created it. It is an inspiration.
- Nigel, Homeschool Dad
I love your website! Your helpful tips and upbeat attitude are a breath of fresh air. Grammar definitely needs a champion like you!
- Kristin, Elementary School Library Tech
What are you waiting for? It's your turn to enjoy grammar! Learn more about diagramming sentences.
Other Helpful Resources
The posters are stunning! They are so much nicer than I expected and more beautiful than any teacher posters I've ever purchased. I am putting them along the entire back wall of my classroom. Seriously, they are absolutely beautiful.
- Camille, Classroom Teacher