Would you like to teach grammar but you don't know grammar yourself?
Are you self-conscious because you never learned grammar?
If you're feeling confused, frustrated, or self-conscious about grammar, I know exactly what you're going through. After struggling for years to understand grammar, I was lucky enough to stumble onto a way to make grammar make sense, and I've made it my life's work to share what I learned with others.
I love helping people learn and teach grammar. There's nothing quite as satisfying as helping people understand concepts that have been troubling them for days, weeks, or years.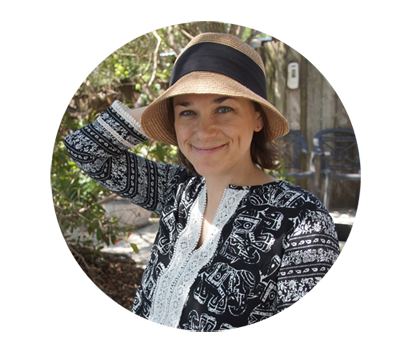 Here's something that might surprise you: you can learn all of the important concepts of grammar in a relatively short amount of time. If I had nine or ten hours with you, I could move you from self-conscious to confident.
But there are two problems.

There are two problems with this approach, though.
One is that having me be your personal tutor for nine or ten hours is financially prohibitive for many people. I charge $75/hour, so it would cost about $700 for me to teach you everything in one-on-one tutoring sessions.
The other problem is that I don't have the time to tutor very many people one-on-one. I have two little girls who keep me very busy. :)

My solution has been to take all of the material that I would teach you in tutoring sessions and put it together in the form of videos and written lessons. Bam! This makes the content affordable, and it allows me to teach many people in a fraction of the time.

My family keeps me on my toes.

Learning with the Get Smart Grammar Program is just like learning with me personally, except that you're learning through video lessons rather than face-to-face meetings. (If you're a teacher, you can use this program to have me teach your students directly, or you can learn the content yourself and pass along what you learn to your students.)

In the Get Smart Grammar Program, I'll teach you grammar through sentence diagramming, and I'll use a proven, systematic approach. We'll start with the basics, and I'll have you constantly reviewing everything you learn. We'll also test what you learn as you go.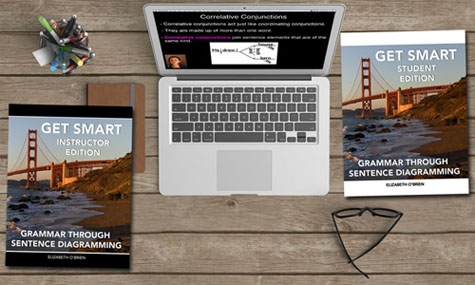 If I taught you all of this content in tutoring sessions, it would cost almost $700. You'll be happy to know that this program will give you the same benefits that you would get from working with me directly, but it doesn't cost anywhere near $700.
Click the "Buy Now" button below that fits your needs, and start learning grammar the easy way— with me! 

The Get Smart Grammar Program with the Let's Diagram software is currently only available through the Let's Diagram website. 
What This Program Will Give You

You'll understand how to diagram sentences. Diagramming is a powerful tool for using and understanding language.


You'll remember what you learn. The visual nature of the sentence diagrams paired with the puzzle-like aspect of creating them will help you retain what you learn. Since all of the concepts build on each other, you're also continually reviewing easier concepts as you learn more difficult concepts.



You'll be engaged. Our short videos (5-15 minutes each) teach you the concepts you need to learn without overwhelming you. Our exercises and tests give you space to practice and apply what you learn in the videos.


You'll have the flexibility to move at your own pace. Get Smart is broken into 37 lessons (There are roughly 37 weeks in a school year). Each lesson contains a 5-15 minute video and at least five sentence diagramming exercises. You can do one lesson a week (37 weeks), or you can do one lesson a day (37 days). It's up to you. Just follow the lessons in order, and you can't go wrong.
My kids, who were not looking forward to this at all, went nuts after watching the first video. They loved your energy, and consequently they didn't miss a single lesson even though I never reminded them to do anything. 

- Catherine, Homeschool Mom
You'll receive instant digital access. Your login information will be emailed to you within minutes of your purchase, so you can start learning right away. Your account will remain active for one year, which is plenty of time to go through the whole program. (At that time, you'll have the option of renewing your access for a small fee. Don't worry—we don't have your purchase set to auto-renewal. We'll send you an email asking if you'd like to renew, and you'll only be renewed if you explicitly opt for it at that time.)

Diagram your sentences online!
You'll have the ability to diagram your sentences on the computer. Your purchase gives you access to online sentence diagramming software, which we've seamlessly integrated with the rest of the program so that you can easily complete and save your assignments online. 
You'll have the option of ordering softcover books. Some people prefer to create their diagrams with a pencil and paper. If that's you, know that you'll have the option of ordering softcover books during the checkout process. The softcover books allow you to complete your sentence diagrams and other work in a bound book. The student workbooks are 285 pages, and the instructor book is 335 pages.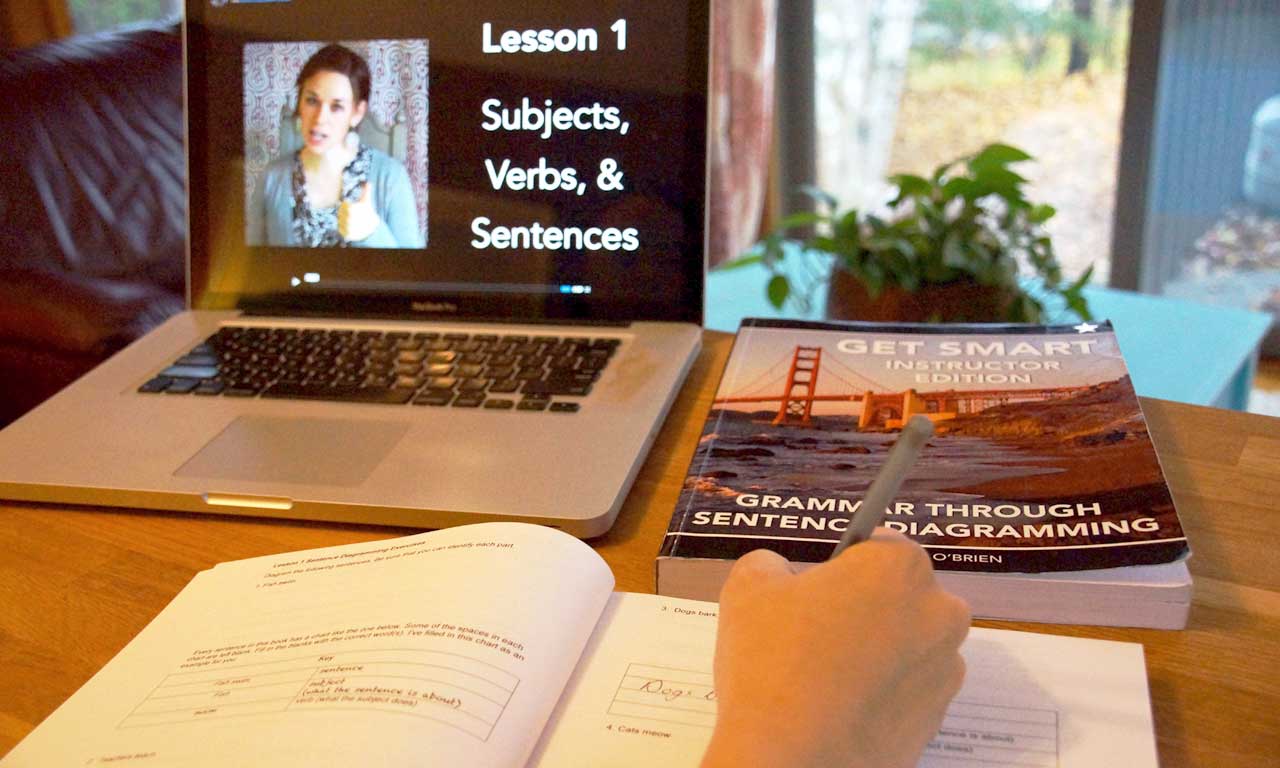 Diagram your sentences in a softcover book if you would prefer.
You'll have our support. Feel free to send us any questions that may come up as you move through the program. We're here to help.


It's guaranteed. Thousands of people with differing backgrounds have had success with the Get Smart Grammar Program. We're so sure that it will help you that we offer an unconditional, no-questions-asked, 30-day, money-back guarantee.
Thank you for making this program! My grammar-hating son, age 13, is finally mastering grammar after years of using other homeschool programs that did nothing to make him truly understand grammar!! Get Smart is exceptional and makes students successful in this realm! Thank you again! 

- Tammy, Homeschool Mom
The Get Smart Grammar Program with the Let's Diagram software is currently only available through the Let's Diagram website. 

This video shows you one of the 37 lessons in its entirety. Enjoy!

I hated grammar as a kid, and I wish I had had a teacher like you! I'm hoping my kids will have a better experience than I did, and with your program, I am confident that they will.
- Valerie, Homeschool Mom
Are you a teacher, parent, or tutor?

I've been a teacher, and I know that prepping lessons isn't fun. (That's especially true when you're prepping for topics that you don't understand or like!)

These lessons are laid out for you in a really accessible way. You won't have to worry about preparing grammar lessons, and you'll know that you're teaching your students as they should be taught.

You won't have to worry about knowing everything either. This program will teach YOU grammar too. In fact, you don't have to know any grammar before you use this program, and you can start teaching your students right away.

All you have to do is read through the instructor lesson and exercises before your class. (It will only take a few minutes.) Then, you'll go over the student lessons with your students, and you'll all be good to go!
My eighth graders are grasping grammar better than I've ever seen. I intend to continue using this every year!
- Ann, Classroom Teacher

Because sentence diagramming is actually fun, both you and your students will be motivated about your grammar lessons. 


You'll be a more confident teacher and person as you yourself learn grammar and sentence diagramming.

I promise not to bog you down with pages of boring and unnecessary information. I've included exactly what you need and not a lot of fluff.
Are you an adult who never learned grammar?

I have to tell you how much I love your product [Get Smart]. I have struggled with understanding grammar my whole life, and I felt like I was stupid because I could not memorize the rules. 
I was seriously leaning towards walking away from my dream job as a college professor because of my embarrassment and fear of getting caught as being a fraud! Thank God for you! I have confidence, and I actually love grammar now. Thank you for everything!
- C., College Professor
Use this program to teach yourself grammar.
It will be especially fun for you because you get to be both the teacher and the student. Yay!

You don't need to know any grammar before you get started. You'll just go through the student lessons and complete the exercises, and then you'll check your work with the instructor lessons.

By the time you're done with the program, you will actually understand language, and you'll feel so much better about your writing.
The Get Smart Grammar Program with the Let's Diagram software is currently only available through the Let's Diagram website. 

How long will I have access to the program?

Your purchase gives you access to the Get Smart Grammar Program for one year. After that, we'll reach out to you asking if you'd like to renew your access for a small fee ($15/year home-based renewal, $30/year school-based renewal). You'll receive access to all of the digital content minutes after your purchase.



How long does it take to go through the Get Smart Grammar Program?

There are 37 lessons, and there are roughly 37 weeks in a school year, so it's pretty easy to go through one lesson a week. People going at that pace can expect to spend anywhere from 20 to 60 minutes a week on the course. This amount of time can vary depending on your current level of knowledge and the complexity of the lesson that you're on.

However, you can move at any pace you'd like. Some people go through the whole course in just a few weeks.

My kids were struggling to learn grammar until we got Get Smart. Elizabeth does an awesome job of starting small and building into it. As a mom of more than four kids, I love the ease of hitting play and us all watching Elizabeth teach these concepts.

- Kim B., Homeschooling Mom
My school blocks YouTube and Vimeo. Can I still use the videos? Yes. The videos aren't hosted on YouTube or Vimeo, so you shouldn't have any problems accessing them.
What's the difference between the school-based and home-based programs?

The programs contain the exact same content, but the home-based program gives you just one account. The school-based version gives you a teacher account with all of the materials, and it allows you to set up student accounts for up to 30 students. Student accounts will only show students the student material. Students can watch the video lessons and complete and save their homework online. 

Teachers can renew access each year for just $30/year.
Can students complete and save their work online?

Yes. Purchasing the school-based version gives you the ability to create 30 student accounts. Each student can view the videos and complete and save homework online within their personal account. Teachers can log in and check homework. If you prefer to work with actual paper, your students can forgo completing their work online and complete it on paper. It's your choice! 



After talking to several other teachers, I do believe my students are now the grammar gods at our school. These freshmen couldn't tell me the difference between a noun and a verb when the semester started, and now they are feeling so accomplished! Thank you for that!

- Meredith, Classroom Teacher
I am totally hooked. I'm up to lesson 10 on prepositional phrases, and I'm progressing in leaps and bounds. Honestly the program (Get Smart) has been worth every penny. Talk about confidence boosting for my TEFL course! Thank you. It is exactly what I needed!

- Jim, TEFL Student

My daughter is no longer stressed. 
- Rick, Parent
My grades improved drastically as a result of your lessons.
- Martin, University Student

The explanations are delightfully clear and concise and your enthusiasm is contagious!  We are honestly ENJOYING grammar! Yay! 
- Pam, Homeschooler
I have been homeschooling for six years and haven't found a program that is so easy and effective. 

- Holly, Homeschool Mom
My students are fighting over who gets to diagram the sentence on the board when they walk into the classroom. It is a joy to see. 
- Tracy, Classroom Teacher
Thank you for making a stress-free way to learn grammar.

- Kim, Homeschool Mom
I'm a year and a half into using your grammar curriculum, and I am so impressed with it. I've found success with both honors and non-honors students alike. Thank you for creating such a user-friendly and perfectly-paced curriculum.

- Kate, Teacher
Thank you for providing such helpful resources for grammar education. I have just completed the Get Smart Grammar Program for myself and plan to teach it to my children this summer. :)

- Esther, Parent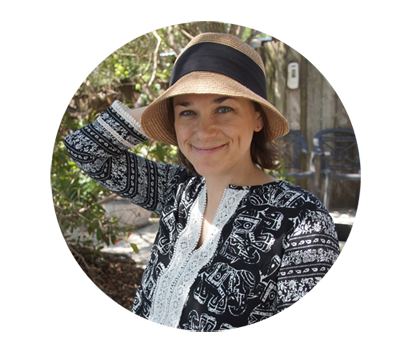 Thanks for taking the time to learn more about the Get Smart Grammar Program. I hope that you'll join us!

Elizabeth