Have you heard the myth that studying grammar is boring . . . and maybe even useless?
Perhaps you've heard that learning grammar is inherently uninteresting because the subject is just so dry. 
Or you may have heard that studying grammar is unnecessary because we soak up grammar organically; learning about it simply hinders creativity.
But let me ask you this...

What if you actually looked forward to learning about grammar? 
What if, instead of writing with a shaky "feel" of what was right, you wrote with conviction that was founded in a clear understanding of how language works?
What if knowing grammar helped you convert your creative ideas into beautifully crafted sentences?
I'm on lesson 13, and I'm excited to take each lesson. Wow, did I just say that? I'm excited to learn grammar? Crazy! 
—Sherry
[My students] are beginning to understand that knowing the mechanics of language enables them to express their creativity accurately. 
—Amy
If all of that sounds good to you, then you're in the right place! These are just a handful of the benefits you can expect from learning grammar with me. :)
There are also some other amazing side effects to understanding how language works.
  ✨ CONFIDENCE
& AUTHENTICITY
The way that we write and speak is a reflection of the way that our minds work. When we don't feel confident about how we formulate the expression of our thoughts, we often don't feel comfortable enough to express them. Being confident can help us express our authentic selves. 
✨ BETTER GRADES
If you'll be tested on grammar or the parts of a sentence (GMAT, GRE, SAT, etc.), your grasp and retention of grammar concepts will help you stand out in your exams. 
✨ CURIOSITY FOR LIFE
When you know how to construct and deconstruct a sentence, you look at the world around you differently. A veil lifts, and you see the secret life of sentences! You feel more at-home in the world, and your curiosity for learning is (re)ignited. 
It might sound a bit far-fetched that knowing grammar can have such a positive impact on your life, but almost every day, I receive emails from people sharing results like this with me. 
I'm learning so much that I'm smiling and feeling confident in myself now. I'm beginning to believe that anything is possible. 
—Regina
I got an 87% on my last English test. I was so happy because it's one of my highest scores.

—Emily
I read a sentence and the attributes are jumping off the page at me as I map the diagrams in my head.
—Kenneth
I would love for you to experience these benefits too! 
Introducing...
The Get Smart Grammar Program 
A video-based course that gives you step-by-step lessons
through the wonderful world of grammar and sentence diagramming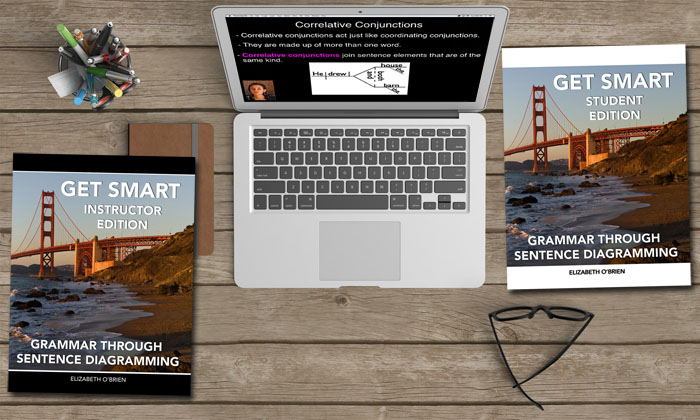 This is the program I wish I had had back when I was a student learning grammar and when I was a teacher teaching grammar. 
I've broken down my entire strategy for learning (and teaching) grammar and laid it out in this turn-key program. 
The End Result?
You finally understand grammar and feel good about writing without spending hours of your your time wading through boring textbooks.
You hit the send button and feel confident that your sentence structures are correct.
Teachers, you bring these results to your students without ever spending time writing lesson plans.
Check out some of the wins from people who've already gone through the Get Smart Grammar Program.
I have struggled with understanding grammar my whole life, and I felt like I was stupid because I could not memorize the rules. 
I was seriously leaning towards walking away from my dream job as a college professor because of my embarrassment and fear of getting caught as being a fraud! I now have confidence, and I actually love grammar. 
—C
My students are fighting over who gets to diagram the sentence on the board when they walk into the classroom. It is a joy to see. 
—Tracy
My kids, who were not looking forward to this at all, went nuts after watching the first video. They loved your energy, and consequently they didn't miss a single lesson even though I never reminded them to do anything. 

—Catherine
My daughter is no longer stressed. 
—Rick
The knowledge and enjoyment that I have gained during the course has been immense. A real bonus for me is that the quality of your teaching is immaculate. The logical sequence of the content, definitions, diagrams, constant reviews and questions all help to aid retention. 
—Nick
Here are some details covering how you'll experience those aha moments.

The 37 STEP-BY-STEP LESSONS teach you the important concepts of grammar in the proper order so that the content is always accessible and understandable. The lessons build on each other and continually review previous material, so everything you learn becomes cemented in your mind. You have total flexibility for your pacing. Go slow. Go fast. Just move forward, and you'll be good! Each lesson takes roughly 15-25 minutes to complete. 

The 37 bite-sized VIDEOS are a game-changer. They give you a personal connection to what's being taught, and they serve you the lesson without your needing to do much of anything but listen. You press play, and I walk you through everything! I also try to make you smile in each video, so it's a good way to give yourself a little zing of positivity.

The WRITTEN PDFS for each lesson cover the content for you if you're the kind of learner who benefits from reading. The teacher versions include the answers and the student versions have blank space to record answers. PDFs are downloadable and printable. Teachers, use these as your written lesson plans.

Periodic QUIZZES help to ensure that you're on track and that you're retaining what you're learning. They can show you where you might need a little extra help or review, and they allow you to show off what you know and how far you've come. This builds self-esteem and keeps you wanting to learn more! Teachers, these give you something to grade, taking the guesswork out of how to assign a grade to student work.

The SENTENCE DIAGRAMMING EXERCISES in each lesson engage you in the learning process. Creating them is like solving little puzzles. Each exercise includes a chart that holds you accountable to naming each part of the sentence. Drawing sentence diagrams makes all of the things you learned visual, which helps you retain and understand information. Teachers, these also give you a way to gauge student learning and present an opportunity to add a participation grade. 

You get LIFETIME ACCESS with no renewal fees. That means you can review the material any time you want. You can move slowly through the lessons if that's your thing, and you'll never have to worry about a renewal fee. If you're using this with students or your own children, you get to pay once and use it forever. How cool is that? 


You get EMAIL SUPPORT. Have a question? Have a problem? Send me an email (elizabeth@english-grammar-revoution.com), and I'll help!

You'll have the ability to order SOFTCOVER BOOKS. These books are essentially printed and bound versions of the PDF file lessons that you have access to digitally. They can help keep your work organized and neat because you won't have to print out each lesson. We only allow people to purchase these if they've also purchased the program, so the books are priced with that in mind. Instructor books (answer keys) are $18 and student books (workbooks) are $12 plus shipping. You will have the ability to order these after you enroll in the program. 

Throughout the program, you'll find links to BONUS VIDEOS/CONTENT. Many of the lessons have links to extra content. This gives you an opportunity to learn more about certain topics if you feel that you'd like extra help.
Sign up now for a single payment of $99 (individuals) or $149 (teachers) for lifetime access to this amazing program!
I love the ease of hitting play and watching Elizabeth teach these concepts.
—Kim
The explanations are delightfully clear and concise and your enthusiasm is contagious! We are honestly ENJOYING grammar! Yay! 
—Pam
100%
Money-Back Guarantee

Secure
Checkout



Buy it, try it, and apply it.
You're backed by our 30-day, 100% money-back guarantee.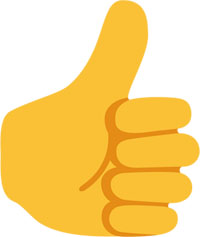 For those of you who are on the fence, have been burned in the past, or just don't know me very well yet, I want to give you every opportunity to put The Get Smart Grammar Program into action and experience how easy and enjoyable it can be to learn or teach grammar.
That's why I'm giving you a full 30 days to go through the program, watch the videos, try out the diagramming exercises and see how good it feels to learn this stuff!
If, for any reason, it's not right for you, just send me an email (elizabeth@english-grammar-revolution.com), and we'll send you a full refund.
You are totally protected with our 100% risk-free money-back guarantee.
You have questions. I have answers. 
My days are busy, and I'm worried I won't have time! Do I need to follow this every day or can I go at my own pace? 

 Get Smart is broken into 37 lessons. (There are roughly 37 weeks in a school year.) Each lesson contains a 5-15 minute video and at least five sentence diagramming exercises. You can do one lesson a week (37 weeks), one lesson a day (37 days), or anything in between. It's up to you. Just follow the lessons in order, and you can't go wrong. 

You have lifetime access to this program, and you can go at any pace that works for you. 
Are the videos available on DVD? I don't have a very good Internet connection, and I'm concerned that I won't be able to use the videos.

The videos are not available as DVDs, but they are all downloadable with your access. That means you can download them whenever you do have a solid connection and play them back whenever you'd like, without any playback issues.

Also, know that you don't need to watch the videos. Each video accompanies a written lesson. You can easily go through the program using just the written lessons if you'd like.
Can students complete and save their work online? Oddly enough, there are two answers to this.



The first answer is no.

We know that things are digital and high-tech these days, but this is one area where you and your students get to experience the benefits of working on actual paper. Gasp! 



The second answer is yes. 

If that does not work for your situation, we also have a version of this program that allows you (and your students) to diagram online. You will be asked after the checkout process if you'd like to upgrade to that version. Note that since it includes software, the pricing is a little bit different.
Imagine how much different your life would look if...

You felt proud of yourself as you invested a few minutes each week or day conquering a topic that always made you feel insecure. 

You felt confident enough in your writing that you would express your ideas more often. 

You felt a rejuvenated sense of excitement about learning and becoming a better version of yourself.

Join the program for a single payment of $99 (individuals) or $149 (teachers) for lifetime access to The Get Smart Grammar Program. 
My grammar-hating son is finally mastering grammar after years of using other homeschool programs that did nothing to make him truly understand grammar! 

—Tammy
My eighth graders are grasping grammar better than I've ever seen. I intend to continue using this every year!
—Ann

100%
Money-Back Guarantee

Secure
Checkout



I am totally hooked. I'm up to lesson 10, and I'm progressing in leaps and bounds. Honestly this program has been worth every penny. Talk about confidence boosting for my TEFL course! Thank you. It is exactly what I needed!

—Jim
Thank you for providing such helpful resources for grammar education. I have just completed the Get Smart Grammar Program for myself and plan to teach it to my children this summer. :)
—Esther
I hope you'll join us!