Helen Keller was a remarkable and inspirational human being.

If you haven't read The Miracle Worker, you should! Helen Keller was deaf and blind. Her teacher, Anne Sullivan, broke through to Helen and gave her the gift of language. This breakthrough completely changed Helen's life and the lives of all those around her. 
You can diagram this sentence along with me at www.letsdiagram.com.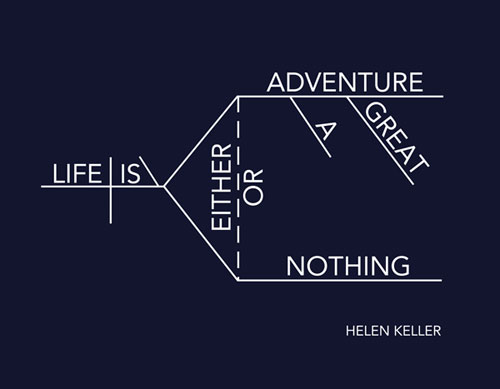 Life is either a great adventure or nothing.
When David and I moved into our house, I knew that I wanted to have a meaningful quote diagrammed on the wall. This Helen Keller quote was the perfect fit! It reminded me of my love of language, the importance of education, and the difference that one person can have in another's life.
If you would like to use this image as a poster, magnet, or anything else, follow these steps. 
Step 1: Use the order button below to download the image file. 

Step 2: Open your email and use the link that you were sent to download the file. Be sure to save it somewhere that you can find again.

Step 3: Upload the file from wherever you'd like to pick it up. (I used Walgreens, but you could also use Target, Walmart, CVS, or your favorite photo company.) 

Step 4: Order whatever size print you'd like. The file is 30 inches by 23 inches, so you can order that size or anything smaller, and it will print out beautifully. Prints are usually ready to pick up in about an hour. 

Step 5: Pick up your picture and enjoy! 
If you'd like to karate chop your way through grammar, you need to check out our Get Smart Grammar Program!
It'll save you time and heartache, and it will bring you well-earned confidence.