Welcome! This list of adverbs should help you to understand adverbs a little better. If you want to rock out even more and go more in-depth on adverbs, see the adverb page.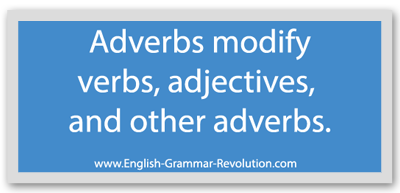 Quick Refresher
Adverbs are words that describe (modify) verbs, adjectives, and other adverbs.
They tell us how, when, where, to what extent, and why. (We call those the adverb questions.)
This list of adverbs is arranged according to the adverb questions. Enjoy!

A: absentmindedly, adoringly, awkwardly
B: beautifully, briskly, brutally
C: carefully, cheerfully, competitively
E: eagerly, effortlessly, extravagantly
G: girlishly, gracefully, grimly
H: happily, halfheartedly, hungrily
L: lazily, lifelessly, loyally
Q: quickly, quietly, quizzically
R: really, recklessly, remorsefully, ruthlessly
S: savagely, sloppily, so, stylishly
U: unabashedly, unevenly, urgently
W: well, wishfully, worriedly
A: after, afterwards, annually
B: before
D: daily
N: never, now
S: soon, still
T: then, today, tomorrow
W: weekly, when
Y: yesterday
Have you ever played the adverb game? Learn how to play it with #3 on this page of grammar games.
A: abroad, anywhere, away
D: down

E: everywhere
H: here, home
I: in, inside
O: out, outside
S: somewhere
T: there
U: underground, upstairs
E: extremely
N: not (this includes n't)
Q: quite
R: rather, really
T: terribly, too
V: very
Comparative & Superlative List of Adverbs
If you don't know what this means, see the
adverbs page
to get smarter.
| | | |
| --- | --- | --- |
| Positive | Comparative | Superlative |
| badly | worse | worst |
| carefully | more carefully | most carefully |
| little | less | least |
| much | more | most |
| soon | sooner | soonest |
| well | better | best |
Would you like to download these word lists?
Seeing lists is a great way to learn what an adverb is. Sentence diagramming can teach you what an adverb does.
Sentence diagramming is a visual way to show how the words in a sentence are related to each other.
You already know that adverbs are words that modify verbs, adjectives, and other adverbs. Diagramming will show this to you. Adverbs are diagrammed on a slanted line underneath the word that they modify.