Welcome to the English
Grammar Revolution Blog
This English grammar blog will show you Grammar Revolution's newest posts, lessons, exercises, sentence diagrams, and articles. Enjoy! :)
To subscribe, right-click (for PC users) or control-click (for Mac users) on the orange RSS button (see bottom right margin) and then paste the URL into your RSS reader.
---
Sep 19, 2016
Adverb Clause : The Elliptical Clause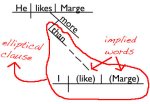 An elliptical clause is a type of adverb clause in which the subject, verb, or both of them are left out but implied. I'll make it easy for you to learn more! Check it out!